Jurassic World: Dominion Dominates Fandom Wikis - The Loop
Play Sound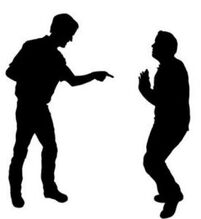 When you have leverage on a GM Character and manipulate them, roll+Cha. Leverage is something they need or want.
On a 10+, they do what you ask if you first promise what they ask of you.
On a 7–9, they will do what you ask, but need some concrete assurance of your promise, right now.
Parley covers a lot of ground including old standbys like intimidation and diplomacy. You know you're using parley when you're trying to get someone to do something for you by holding a promise or threat over them. Your leverage can be nasty or nice, the tone doesn't matter.
Merely asking someone politely isn't parleying. That's just talking. You say, Leverage is anything that could lure the target of your parley to do something for you. Maybe it's something they want or something they don't want you to do. Like a sack of gold. Or punching them in the face. What counts as leverage depends on the people involved and the request being made. Threaten a lone goblin with death and you have leverage. Threaten a goblin backed up by his gang with death and he might think he's better off in a fight.
On a 7+ they ask you for something related to whatever leverage you have. If your leverage is that you're standing before them sharpening your knife and insinuating about how much you'd like to shank them with it they might ask you to let them go. If your leverage is your position in court above them they might ask for a favor.
Whatever they ask for, on a 10+, you just have to promise it clearly and unambiguously. On a 7–9, that's not enough: you also have to give them some assurance, right now, before they do what you want. If you promise that you'll ensure their safety from the wolves if they do what you want and you roll a 7–9 they won't do their part until you bring a fresh wolf pelt to prove you can do it, for example. It's worth noting that you don't actually have to keep your promise. Whether you'll follow up or not, well, that's up to you. Of course breaking promises leads to problems. People don't take kindly to oath-breakers and aren't likely to deal with them in the future.
In some cases when you state what you want you may include a possible promise for the creature to make, as in "flee and I'll let you live." It's up to the target of the parley if that's the promise they want or if they have something else in mind. They can say "yes, let me live and I'll go" (with assurances, if you rolled a 7–9) or "promise me you won't follow me.
Note: Parley is intended for interactions between an Adventurer and an NPC , not two player characters.  The GM might prefer that is handled narratively or with a custom move. 
---
good forum discussion regarding Parley