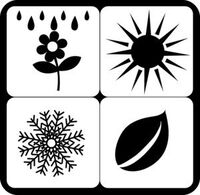 0 Weight 2 Armor
This Brass Cloak Pin is adorned with a sky blue Zircon. A magic cloak, resembling the foliage around it forms with the change of every season, perfectly measured to fit the wearer at the time. Despite being made of leaves, branches, and flora, this cloak is capable of stopping attacks even steel armor would struggle against. Should the cloak be set to flames it will manifest itself anew at the start of the next season, so long as someone wears the pin.
Nature's Mirror
At the start of a new season, the pin will form a new cloak, its appearance a reflection of the plants and foliage around it.
Community content is available under
CC-BY-SA
unless otherwise noted.