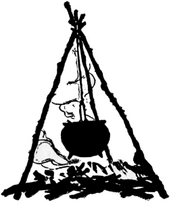 Make Camp
When you settle in to rest consume a ration. If you're somewhere dangerous decide the watch order as well. If you have enough XP you may level up. When you wake from at least a few uninterrupted hours of sleep heal damage equal to half your max HP.
You usually make camp so that you can do other things, like prepare spells or commune with your god . Or, you know, sleep soundly at night. Whenever you stop to catch your breath for more than an hour or so, you've probably made camp.
Staying a night in an inn or house is making camp, too. Regain your HP as usual, but only mark off a ration if you're eating from the food you carry, not paying for a meal or receiving hospitality.