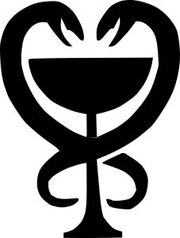 In Classic DW, disease is covered by the sick debility without a move to resist it. Diseases in general don't get a lot of coverage in the core book. The cleric rote spell Sanctify will prevent characters from contracting any mundane illness or disease from something they eat or drink.  The 9th level cleric spell Repair will end the effects of any disease.  This custom player move below is provided by Victor Hurtado of Dwarfare Games.
Magical Diseases
Some monsters are capable of inflicting a magical disease via bite or touch.  Lycanthropes like werewolves and wererats are a good example.  GMs can decide for themselves if magical diseases are resisted as easily (or at all) without some form of magical agency such as prayer.  
Resist Disease (Special Moves)
When you make camp while afflicted by a disease and try to resist the effects, roll +CON
On a 10+, the disease stage is reduced by 1.
On a 7-9+, the disease stage remains the same.
On a miss, the disease stage is increased by 1.
A disease normally starts at stage 1. If the disease enters a new stage, the effects of the new stage normally stacks with the effects of the old one. When a disease reaches stage 3, the effects are permanent unless a cured is found.
Example Diseases
Bloodrot [Disease]
Stage 0: You are cured of the disease
Stage 1: You move half as you fast as you normally would and you also gain the sick
debility which is ongoing until the disease is cured.
Stage 2: Your skin becomes saggy and begins to ooze out blood whenever you sweat.
When you take damage, roll twice and choose the highest result.
Stage 3: You turn into a blob of skin and blood and become a bloodrot amniote.
Wererat Fever [Disease]
Stage 0: You are cured of the disease
Stage 1: Gain the sick debility which is ongoing until the disease is cured.
Stage 2: The fevers kick in and your appearance begings to change to that of a wererat, gain the awkward tag ongoing.
Stage 3: You change into a wererat.
---
Ailments & Maladies is a free supplement created by Marshall Miller which provides additional material related to catching and curing diseases.
---
Community content is available under
CC-BY-SA
unless otherwise noted.